It was not possible last year, but this year we have finally been able to participate in the 34th edition of the Salón Gourmets, the most important fair in Europe devoted to high-quality food and beverages.
It is the most important display of high-end food products. It is an indispensable meeting for national and international professionals in the gastronomy sector: the restaurant and hotel industry, and the distribution, catering and specialised trade sectors.
With a confirmed occupancy of 98.8%, more than 1,500 exhibitors have shown 37,000 products: wine, oil, tinned food, cheese chocolate, smoked products, beverages, cereals… and, of course, our Cárnicas Chico processed products.
We counted on the presence of Mr. Javier Fernández (manager at Cárnicas Chico) at our stand, in which we presented our range of cured products, that received a great and warm welcome:
Afinado: Iberian pork products.
La Granja de Chico: Duroc pork products.
We are an agri-food group that designs the end products starting from its origin. We raise our animals, we feed them, and we manage them in a specific way with the aim of highlighting the qualities of the products.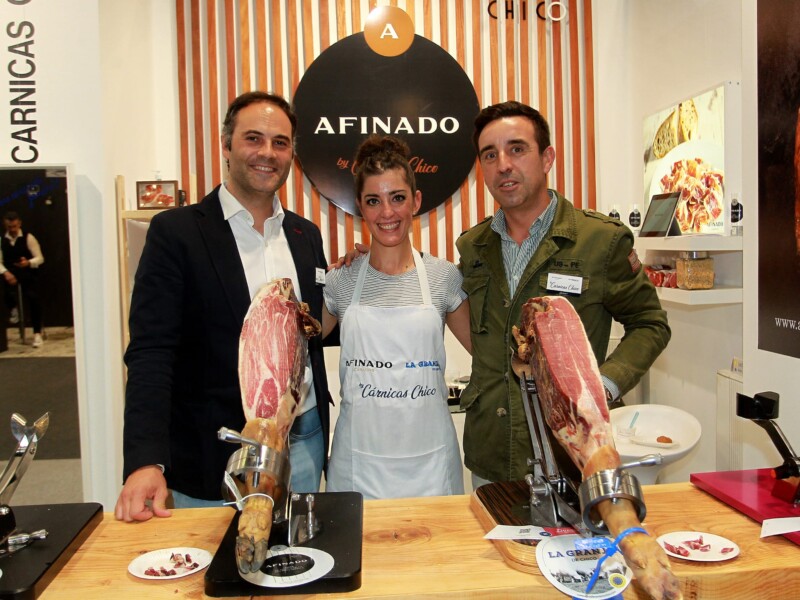 The Duroc pig breed 
Our Duroc pigs are unique animals that live in optimal conditions.
Our pigs are castrated/spayed. In this way we improve the organoleptic nuances of the pork, and we obtain a tastier meat.
By working with the Duroc breed we reach a characterisation of the product that can be appreciated in the marbling and fat infiltration of the cured hams.
We have the main certifications in the sector:
PAED (Programa De Autocontrol Del Etiquetado Duroc, Duroc Labelling Self-Control Program) certification.
IAWS (Interporc Animal Welfare Spain) Animal Welfare Certification.
IFS Food Standard
Calicer: Quality Standard for Iberian pig pork, cured hams, cured shoulders and cured loin PI/1021/21 Iberian pig product.
La Granja de Chico 
It is the first brand of our company, Cárnicas Chico.
La Granja de Chico works to obtain a tastier and tenderer pork with a greater fat infiltration index. We obtain this marbling basing ourselves on the feed, the management of our Duroc pigs and the chosen genetics.
We stand out from the rest:
Unique selection of each product.
We personally choose, in our cutting plants, the cuts that we market.
Cured ham, cured loin, salchichón, chorizo… All the cuts are produced in-house.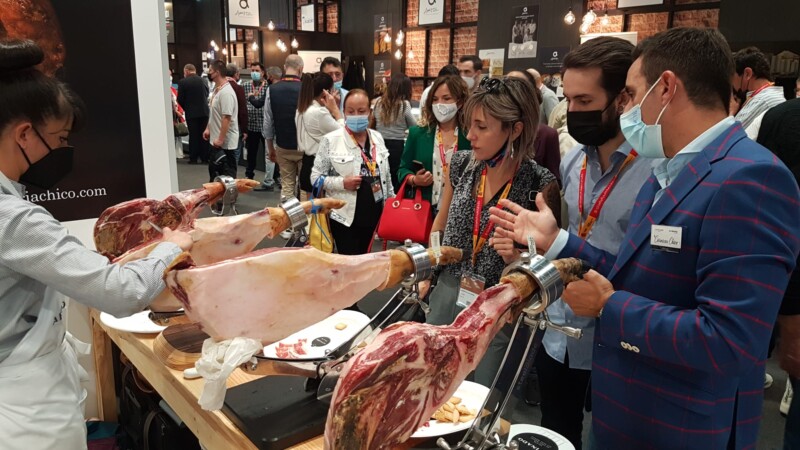 Afinado, Iberian pig products at the Salón Gourmets
This edition of the Gourmets Fair has been chosen for the national launching of our Iberian pork products' brand, Afinado. Besides our cured ham, the crowd showed a great interest for the Iberian pork cured products: loin, salchichón and chorizo.
Our products have a basic difference: the special land and climate conditions in the Ribera de Duero region have a direct influence on the production of the cereals consumed on our farms.
Barley, wheat, maize… Top-quality cereals with which we produce feed without additives that feeds our Duroc and Iberian pigs, therefore obtaining tastier pork cuts.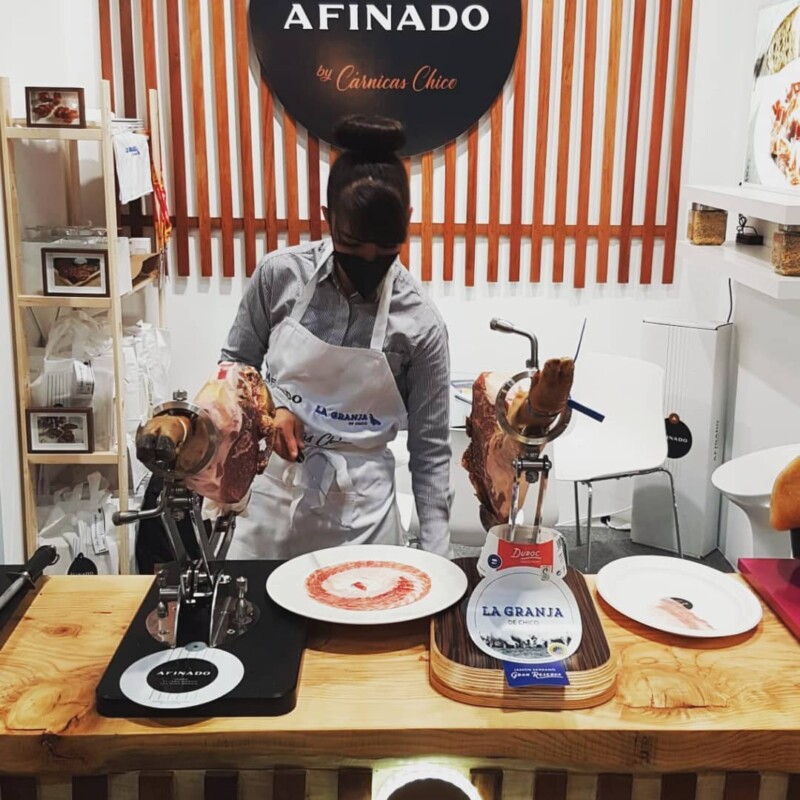 We are very happy that the people have known our work, carried out as honestly as possible, by giving them to taste our cured products.
Afinado and La Granja de Chico have become stronger thanks to the Fair.
If you were not able not attend the Fair and want know how we lived this experience, watch the interview that we made presenting our stand on the TVGourmet TV channel.